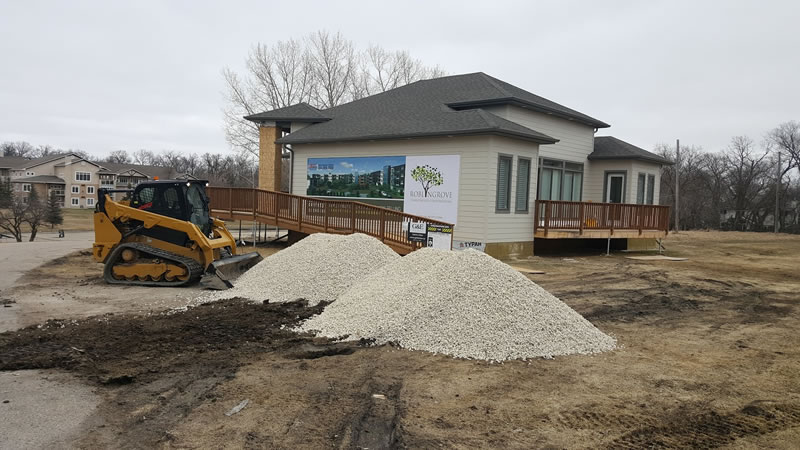 Skidsteer / Bobcat Services in Winnipeg
We specialize in small to medium excavation projects.
It's not uncommon for a homeowner to require the services of a skid steer on their Winnipeg property.  Clearing brush, moving dirt piles, augering post holes, clearing snow… These are all heavy lifting tasks that don't quite require the brute force (or expense) of an excavator, yet they are still difficult to complete by hand.  It's these situations where a skidsteer and a competent operator can really save you time (and your back).
Terrace Excavation Is a full-service landscaping and small to medium sized excavation contractor based out of Winnipeg, MB.  We specialize in skid steer services including material moving, brush clearing, lot clearing, property grading, small landscaping projects and more.  We have two versatile machines we can put to work on your project.
Skidsteer and Bobcat Services Winnipeg, MB
We have a variety of different attachments including buckets, a ripper, a harley rake, a roller, and more to complete a variety of small excavation tasks on your property while creating minimal ground disturbance from much larger machines.
Dirt and Debris Removal
Moving Dirt Around Your Property
Light Brush and Lot Clearing
Small Excavations
Augering Post Holes
Spreading Sand or Soil
Small Landscaping Projects
Building Berms
Small Rock Walls
Retaining Walls
We are equipped with a dumping trailer to deliver the skid steer to your location and load/unload with minimal fuss or mess.  Our experienced staff are well trained in both safety and operating techniques so we can usually make short work of the projects a skid steer was designed for.
What About Clean Up?
We take the time to make sure your property looks better than we found it… Everytime.  We're not going to chew up your yard with irresponsible driving, we're not going to make a mess of your driveway and if the weather conditions or property conditions make the situation unavoidable we'll operate with even greater care and attention.
Why Choose Terrace Excavation For Skid Steer Services in Winnipeg, MB?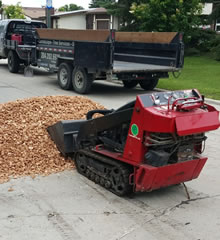 When you choose Terrace Excavation to provide skid steer services in Winnipeg you are partnering with a team of professionals who will care for and maintain your property as if it were our own.  You can count on great communication, reliable service, and fair prices.
Our team takes great pride in the work they do and we listen to the needs of each and every customer as no two properties are alike.
If you'd like to receive an estimate for skid steer services from Terrace Excavation please give us a call (204) 202-3224 or send us an email through our contact form and we'll get right back to you.