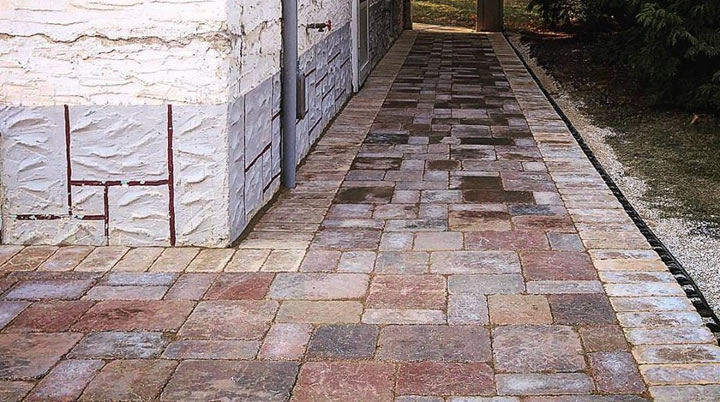 Brick Or Stone Pavers Make Great Driveways, Patios and More
We install brick patios, walkways, sidewalks, and driveways.
Are you looking for ways to incorporate some beautiful hardscaping into your property?  Maybe you'd like a brick patio in your backyard for those summer BBQ's?  Maybe you'd like a beautiful new brick or paver driveway?  Interlocking bricks and pavers aren't the most inexpensive building material to work with because of the additional labour required to install them correctly. They are however, one of the most visually stunning landscape features, especially when they've been installed by a professional.  Brick or stone pavers offer many years of service and are very easy for the average homeowner to maintain and keep looking great.
From a simple interlocking brick patio off the back of your home to a sprawling interlocking brick driveway there are many possibilities.
Terrace Excavation is a family owned and operated landscape design and construction company based out of Winnipeg. We specialize in interlocking brick and stone paver installations. From a new brick paver driveway to a beautiful new entry porch or front steps for your home or a natural stone patio in your backyard, we can help.
Interlocking Brick Installation and Construction Winnipeg
Interlocking brick patio installations
Interlocking brick driveways
Interlocking brick outdoor living areas
Interlocking brick pathways and walkways
Preparing The Area For Your New Brick Or Paver Installation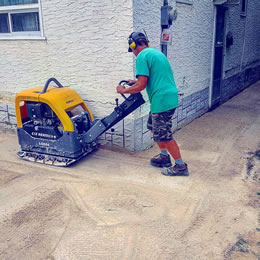 In order to have a great looking, long lasting brick or paver feature in your landscape the prep work must be near perfect.  The photo on the right shows us compacting the base where a new paver walkway is about to be installed.  By compacting the base properly we are minimizing any material settling that may occur which prevents the new pavers or brick from shifting which can cause dips and uneven surfaces in your new landscape feature.
How Our Interlocking Brick Landscaping Process Works
We start with our initial consultation.
We determine the surface area of your project.
We consult with you on the specific brick of stone materials you'd like.
We'll provide you with an accurate written estimate for the work.
The amount of work required for this type of landscaping project can vary greatly from property to property dependent on many factors. The slope of your property, existing site conditions, drainage, size and scope of the project, and your budget will all be considered. We'll be able to offer you an accurate estimate only after an initial site visit and material consultation.
Why Choose Terrace Excavation To Install Your Interlocking Brick?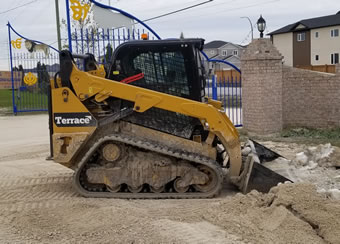 When you choose Terrace Excavation for your interlocking brick installation you are partnering with a small, locally owned, family run landscaping business.
The Terrace team is large enough to install interlocking brick and stone for outdoor hardscapes of all sizes but we're still small enough to give your new brickwork the specific care and attention it needs to be durable and long-lasting and make the big impact on your curb appeal that we've promised.
We believe in providing great service and value along with complete customer satisfaction with every project we complete! We will conduct ourselves like true professionals on your property at all times, leaving no trace behind but your new interlocking brick!
If you'd like an estimate for interlocking brick or paver installation services please give us a call (204) 202-3224 or fill out our contact form and we'll get right back to you.