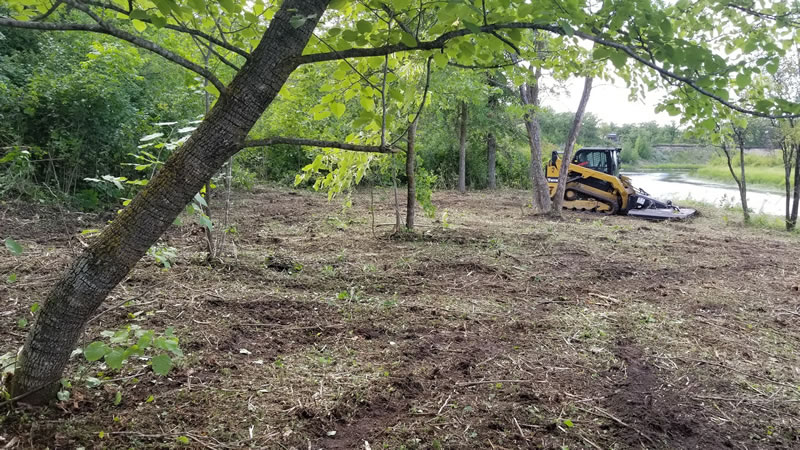 Lot Clearing and Land Development In Winnipeg
We'll transform your land into useable land for building.
Do you have a large piece of residential or commercial property that requires extensive excavation and sitework before it can be developed?  Have you purchased a new lot in one of the growing rural communities surround Winnipeg and need your build-site cleared?  From lot clearing and tree removal to grading, clearing a driveway and the installation of basic services, we can help!
Terrace Excavation is a full service excavation and landscape construction contractor based out of Winnipeg, MB.  We specialize in lot clearing and land development projects for homeowners, commercial property owners, landscapers, construction contractors, and developers.  We are licensed, insured, maintain our own fleet of equipment and we guarantee the highest quality workmanship on your project for a fair price.
Lot Clearing & Land Development Winnipeg MB
Lot clearing
Tree removal and stump removal/grinding
Access road construction
Driveway construction
Digging foundations
Fill removal
Underground utility installations
Why Choose Terrace Excavation For Your Lot Clearing Project?
When you choose Terrace Excavation for your lot clearing project you are partnering with a small local business that has been serving the Winnipeg area for several years.
Our goal is provide you with a nicely cleared lot that will be suitable for your new home, shop or whatever else you plan on building.  We rely on our word of mouth advertising from happy clients for our business to grow and your project will be treated with the utmost of attention and care so you'll be just as happy with our work!
If you'd like to receive a Free Estimate for your lot clearing project please give us a call (204) 202-3224 or fill out our contact form and we'll get right back to you.