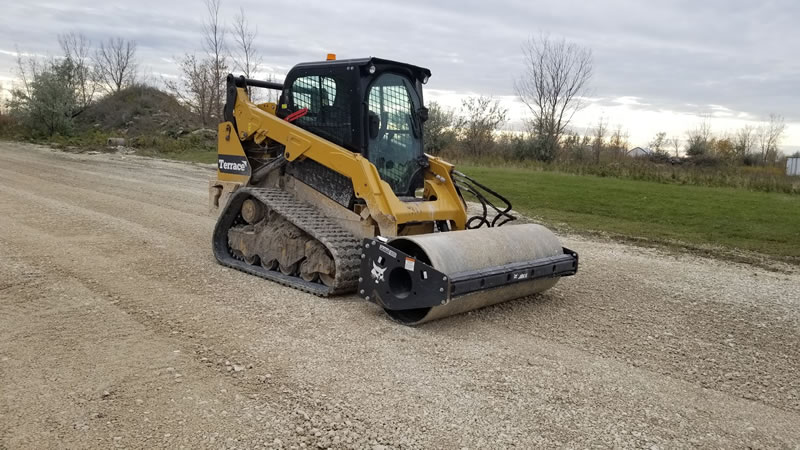 Gravel Driveway Construction Winnipeg MB
We Specialize In Building Gravel Driveways & Parking Areas
Does your new construction project call for the construction of a new driveway?  Is it a rural property with a really long driveway?  Do you want to do something to improve it's appearance and drive-ability?  If the cost of concrete or paving the driveway scares you then the best alternative is usually to have a gravel driveway constructed.  There are a variety of different grades and colors of gravel available so your driveway doesn't have to be boring.
Terrace Excavation is a full service excavation and landscape construction contractor based out of Winnipeg, MB. We specialize in preparing and building gravel driveways for residential properties throughout the Winnipeg area.  From a winding driveway of blue chip stone to some beautiful and earthy decomposed granite gravel pathways meandering throughout your property or even the repair or replacement of an existing gravel driveway, we can help!
Our full sized and mini skid steers can make short work of any gravel driveway project from clearing the land, installing drainage, grading the area, and then spreading the gravel we can install your new gravel driveway from start to finish.
Gravel Driveway Construction Winnipeg
New gravel driveway construction
Gravel driveway maintenance
Gravel driveway renovations
Gravel parking pads and building pads
Driveway removals
Driveway additions or round-a-bouts
Driveway drainage corrections
Curb and gutter installations
Why Choose Terrace Excavation For Your Gravel Driveway Or Parking Area Construction?
When you choose Terrace Exavation to plan and build the gravel driveway for your next construction project you are partnering with a team of professionals with several years of industry experience.  We can work directly with your engineers or architects to plan and build the driveway exactly to your specifications and out of a variety of different materials available.
If you'd like to schedule an estimate for your gravel driveway or parking area construction project please give us a call (204) 202-3224 or fill out our online contact form and we'll get right back to you.