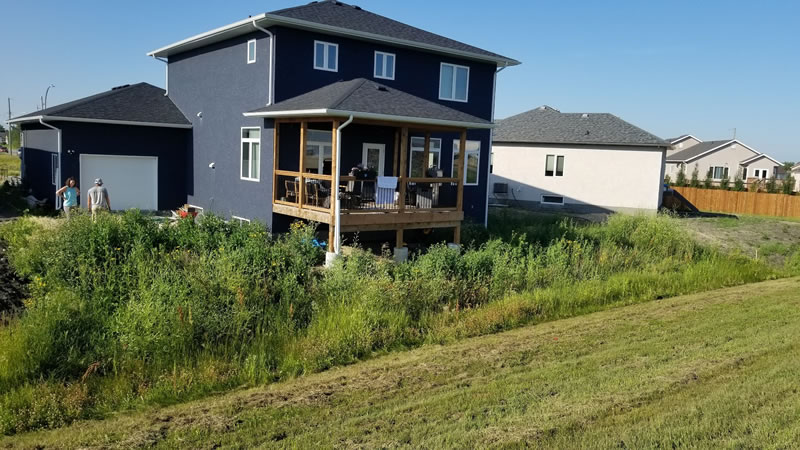 Retaining Wall Construction Winnipeg MB
Do you have a sloped property that you'd like to build a retaining wall on?  Are you looking to get more usable space from your sloped property?  Properly built retaining walls are a great way to enhance both the look and function of your Winnipeg landscaping.
Retaining walls are most commonly used as a solution to reclaim flat land on a slope and uneven properties.  Retaining walls let you carve out functional outdoor spaces into a slope that otherwise might not be suitable for much else.  With a well-built retaining wall that new space can be suitable for creating new garden beds, new sections of lawn, patios, outdoor living spaces, parking pads, and more.
Terrace Excavation is a family owned and operated landscape design and construction company based out of Winnipeg. We specialize in the design and construction of retaining walls, stone steps, and patios using rock, block, or stone slabs for both residential and commercial property owners.
From a small retaining wall to hold back a section of slope on your property to much larger retaining walls for terraced or steep sloping properties, Terrace Excavation will be able to provide you with a safe, properly constructed retaining wall solution that will look great and provide the function you need.
Retaining Wall Design and Construction
Stone slab retaining walls
Rock retaining walls
Block retaining walls
Garden retaining walls
Retaining wall replacement
Outdoor patio and living areas
Proper Drainage For Your Retaining Wall And Stone Work
While retaining walls are designed and built to hold back earth and fill they can also hold back and channel water.  This can lead to problems with your wall in the future if the problem isn't addressed correctly. The water that builds up behind a retaining wall is referred to as "hydrostatic pressure" it can come from heavy rain-fall or even melting snow.  The external force of the material/fill held behind your wall coupled with the weight of the water pressing against it is often enough to cause damage to a retaining wall and can even cause failure and eventual collapse.
A good drainage system should be an integral part of any retaining wall design regardless of the walls height. Depending on the type and shape of the stone or block used to build the wall there are a variety of ways to integrate sufficient drainage such as weep holes, lateral drains, blanket drains and also the use of very granular soil or fill that promotes drainage, rather than retention.
Understanding Retaining Wall Surcharge Loads
If you want your new retaining wall to last a very long time, understanding surcharge loads is very important to the stability of your wall. Be wary of a contractor who doesn't explain this to you, if it applies to your wall. What is a surcharge load?  A surcharge load on a retaining wall is any load that rests on the surface of the soil close enough (directly above or within 4 feet) of the retaining wall that causes a lateral pressure on the wall.
Maybe you're parking a vehicle, a boat, or an RV on top of the area? Maybe you'd like to build a decorative cedar fence along the wall for privacy? These are examples of a surcharge load and would require your retaining wall to be designed and built with a little more care and proper procedures for the added weight and stress.
Retaining Walls & Building Permits in Winnipeg
According to the Winnipeg building codes a "retaining wall" means a structure which supports and confines a mass of earth or water where there is a change in ground elevation. Retaining walls that are under 4 feet in height may or may not require a building permit. In addition any retaining walls over 1.2 meters (approx 4ft) in height must usually be designed and signed off by a geo-technical and/or structural engineer to ensure the wall is properly constructed for your site conditions and intended purpose (like a surcharge load). This does not account for any covenants that might be on your property.
How Our Retaining Wall Construction Process Works
When building a retaining wall on your property that is designed to hold back thousands of pounds of soil and earth there is very little margin for error. Depending on how large your retaining wall and what purpose it's for, we may work directly with a geo-technical engineer to ensure your wall is designed, planned, and built the right way.
We start with our initial consultation.
We determine how many feet of retaining wall you need.
We determine the height of the wall and if a building permit or engineer will be required.
We consult with you on the type of stone you'd like your retaining built with.
We'll provide you with an accurate written estimate for the work.
We'll get to work on the schedule start-date and build your new retaining wall.
The end result will be a beautiful new retaining wall on your property.
The amount of work required to build a retaining wall can vary widely from project to project. The slope of your property, the amount of earth your retaining wall must hold back and the overall accessibility of your property will all contribute to the final cost.  We'll be able to offer you an accurate estimate only after a site visit.
Why Choose Terrace Excavation To Build Your Retaining Wall?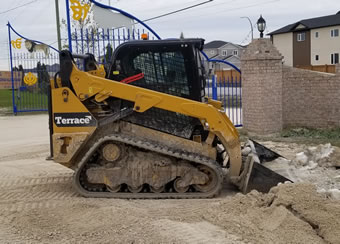 When you choose Terrace Excavation for your new retaining wall you are partnering with a small, locally owned, family run landscaping business.  The Terrace team is large enough to design and install retaining walls of all sizes but we're still small enough to give your new retaining wall the specific care and attention it needs to be safe, solid and aesthetically pleasing.
We believe in providing great service and value along with complete customer satisfaction with every project we complete! We will conduct ourselves like true professionals on your property at all times, leaving no trace behind but your beautiful new retaining wall!
If you'd like an estimate for retaining wall construction or replacement please give us a call (204) 202-3224 or fill out our contact form and we'll get right back to you.