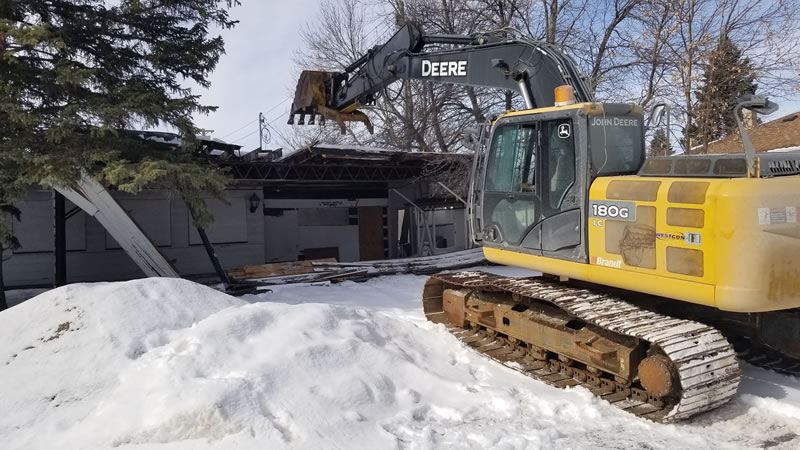 Demolition & Debris Removal Winnipeg MB
We complete residential and commercial building demolitions.
Do you need to demolish and remove an old home, barn or run-down out buildings in order to develop the property the way you'd like?  Is there old concrete or rock retaining walls that need to be removed using an excavator?  Demolition projects often require the services of a competent operator, aware of the safety concerns when it comes to demolition projects.
Terrace Excavation is a full service excavation and landscape construction contractor based out of Winnipeg, MB. We specialize in residential and commercial demolition and debris removal projects using our skid steers, excavators, and our tandem axle dump trailers.
Demolition and Debris Removal Winnipeg
Residential demolitions
Commercial demolitions
Retaining wall removal
Driveway removal
Concrete demolition removal
Large brush pile removal
Fence and deck removal
Debris and fill removal
Why Choose Terrace Excavation For Your Demolition Project?
When you choose Terrace Excavation for your demolition project you are partnering with a small local business that has been serving the Winnipeg area for several years.  We are also licensed and insured and we have the equipment required to complete small to medium sized demolition projects.
Our goal is provide you with your demolition and debris removal services.  We rely on our word of mouth advertising from happy clients for our business to grow and your project will be treated with the utmost of attention and care so you'll be just as happy with our work!
If you'd like to receive a Free Estimate for your demolition please give us a call (204) 202-3224 or fill out our contact form and we'll get right back to you.